Next up on our Sunday Spotlight list is none other than Rachel Aschenbrand-Robinson! Not only is Rachel fashion royalty, as the the Fashion Editor of Stylewatch and TheOutfit.com, she is also a larger-than-life force in the animal welfare community (Rachel introduced us to Mr. Bones & Co.!)
Rachel mixes style with compassion, inspires us to no end and shows us every day why Rescue is the New Black! (She also runs this hilarious parody Instagram account – a must-follow for dog lovers!) Here's to you Mrs. Robinson, our latest Sunday Spotlight!
bk&leo: How would you describe your style?
Rachel: I like to be cool casual. You can almost always find me in jeans (I cover the denim market) and I hate looking overly fussy. I like to look as effortless as possible while still being stylish. I also have a serious stripe obsession.
bk&leo: What's the coolest on-the-job experience you've ever had?
Rachel: When I was first out of college, I worked as a stylist's assistant and Eve was our major client. When she performed in the NFL kickoff concert in Times Square, I had to sew and fit a customized one shoulder Eagles jersey for her to wear… the night before. My heart was in my throat when she tried it on the day of, but it fit and she wore it in front of millions of people- the pics ran everywhere, even in a Vogue interview with her!
bk&leo:
Tell us about Cooper!
Rachel:
Cooper is my lil' Pekingese rescue. I found him on Petfinder through a group called
East Coast Asian Dog Rescue
in south Jersey. He was about 1.5 years when I adopted him and has taught me so much about love, patience and making the lifelong commitment to an animal. He changed everything for me. He's super funny, has a total peke-itude, and though he has gotten kind of grumpy in his later years, I literally couldn't love him more.
bk&leo: How did you get into animal rescue?
Rachel: A friend forwarded an email about a friend of hers who wanted to help this family keep their dog (she had met them at ACC and they were going to surrender their dog because of housing weight restrictions). I was so inspired by her commitment to help these total strangers and had to meet her. That's when Elli told us about her idea to start Mr. Bones and Co, and I knew I had to be involved. That was the beginning of it all! (bk&leo note: as you may have guessed, Rachel is hugely instrumental in making Mr. Bones & Co's annual fundraiser, Rescue the Runway, a success!)
bk&leo: Tell us about a very meaningful animal rescue moment you've experienced.
Rachel: They're all so meaningful- it never gets old for me! One of the things I love most about rescue is the community and network of friends I have met through it. To be surrounded by all of these like minded animal lovers and supporters who want to do good just really feeds my soul.
bk&leo: How can people help contribute to animal welfare even if they can't invest a ton of time, money etc.?
Rachel: Share. All it takes is one social media post to get in front of the right person to find an animal a home. I've seen it happen many times and it always amazes me how interconnected we actually all are.
bk&leo: What's your favorite bk&leo jewelry piece?
Rachel: I love the Udou spike earrings – they are edge yet glam – and versatile. I'd wear them with a tee shirt and jeans, or a fancy dress.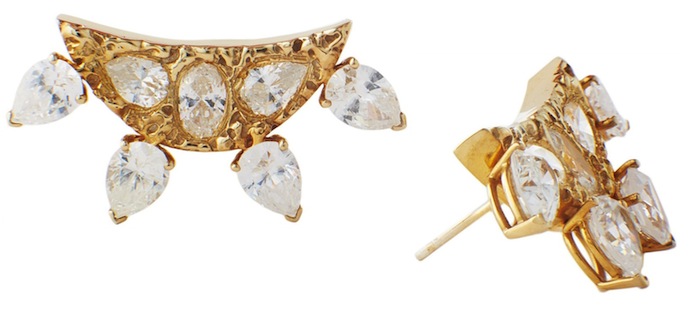 bk&leo: Wild card question, tell us something we don't know about you!
Rachel: I'm a Golden Girls fanatic (the OG!), but everyone who knows me knows that.
Engagement photography c/o Lauren Halvorson Photography