Happy (Wedding) Wednesday! As temperatures are dropping and the 2015 wedding season is coming to a close (and what an epic season it was for me – both professionally and personally!) I'm bringing back warm memories of the jewelry-making process for a very special summer wedding.
I was very excited to pop the question to my family and friends, asking them to stand up with me and play important roles on our big day. I wanted to make a big deal out of it, and mark the occasion by doing something deeply personal, meaningful and memorable.
I had a working concept of the bridesmaids/flower girl/witness ask based on our married monogram, BEE. Keeping in theme with our garden wedding, I thought a subtle use of a bee as decorative detail would be really sweet. I went to work designing and carving a whimsical bracelet with a little bee charm and use that bracelet to ask "Will you BEE my Matron of Honor/Bridesmaid/Flower Girl/Witness?" question.
I absolutely love how the bee bracelet came out – so much so that I wound up making more for my mother and mother-in-law and even some of our outstanding vendors who worked so hard to make our day perfect!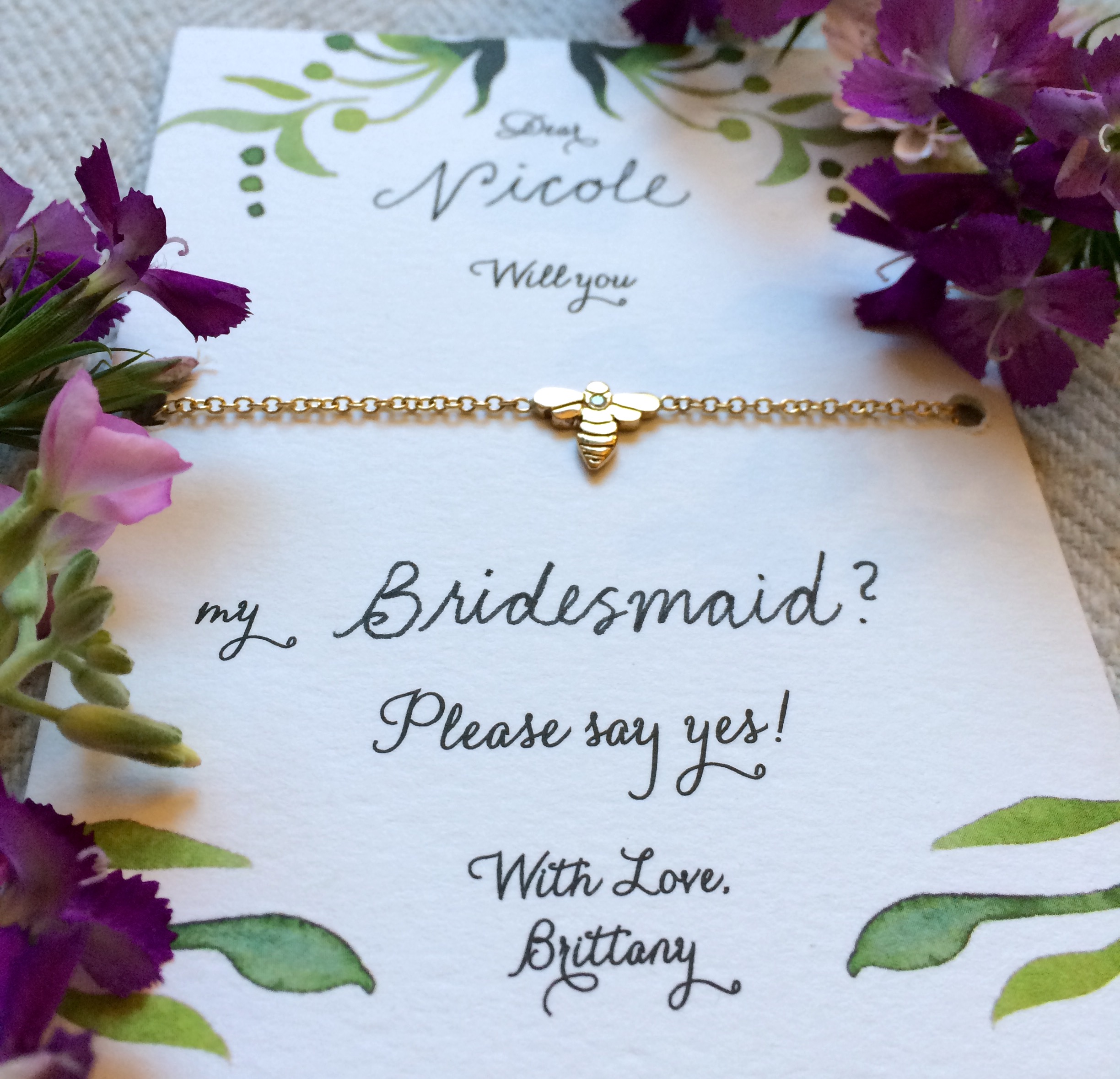 Speaking of vendors, I was lucky to tap an amazing designer at Wedding Paper Divas to help me bring this concept to life with the beautiful presentation cards. If you're wondering, the card is Whitney Port for Wedding Paper Divas' Lavish Laurel design. I love the green watercolor detailing and garden feel. (Speaking of Whitney, congrats to the newlyweds! Here's some #wedspiration for you!
I got together with each of my family and friends so I could watch their reactions as they opened up the cards and bracelets – the extra coordination was totally worth it to see them say YES! I love that everyone got to wear their bee bracelets at the wedding too!
Love the idea? Buy the bracelet here! (Also available as a necklace and earrings!)