What can we say? The team at Mr. Bones & Co. had us at hello, and it only seems right to spotlight these ladies, starting with Executive Director Elli Frank!
Elli is absolutely lovely, yet a complete badass. She is a renegade, yet a total softie. She is completely dedicated to her cause, works tirelessly day and night and never, ever gives up. Her spirit is fierier than we can put into words. Especially with her international travel/rescue work, she has some CRAZY stories and, par for the course, she made us smile, laugh and tear up just with her answers below!
Without further ado, our latest Sunday Spotlight:
bk&leo: Tell us why you got into animal rescue.
Elli: I got into animal rescue after adopting my second dog, Mr. Bones, the day he was scheduled to be euthanized at Brooklyn AC&C. Seeing firsthand how many dogs are killed each year due to widespread failure to spay and neuter, irresponsible breeding and human selfishness crushed me. The pet overpopulation problem is at an epidemic level and unfortunately, while we can't adopt our way out of this situation, I was motivated to do everything in my power to save those I can.
bk&leo: Best rescue moment?
Elli: Best rescue moment was when I finally succeeded in getting Tanya, a dog who had been homeless her entire life, for 7.5 years, finally adopted to a wonderful family. Getting to know a very special pitbull who never shut down and never gave up changed me. After six months of searching, creating videos, and networking her story, the day her adoption was finalized was incredible. Her new mom wrote me a card that I still read whenever I'm having a bad rescue moment, which unfortunately, is not uncommon in the animal welfare world.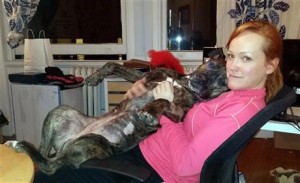 bk&leo: Tell us about Bones and Charlotte!
Elli: Charlotte was my first dog, ever, and I adopted her in 2000. I went from making everyone take their shoes off before coming into my apartment on order to keep out 'germs' to being the girl who shares her ice cream with her dog and lets them sleep in her bed. Adopting Charlotte was a total impulse and I've never regretted it. Two years after her, I adopted Mr. Bones with the intention of fostering him then adopting him out. Within two days I knew he was going to stay- he had been so abused and neglected for so long that he seemed genuinely confused as to who this lady was that was cleaning him up, feeding him, nursing him back to health and teaching him new things. He pawed his way into my soul and I knew his journey to recovery would be too long to just foster him. I wanted him to have stability as quickly as possible so I made the decision to hold onto him for the rest of his life. He bonded very quickly with Charlotte and she accepted him as well, which is surprising because she is not very social with other dogs. Over the past two years they have become their own little pack and they are hilarious. He teases her to no end and he lets her put him back in his place. She's a hound mix and managed to teach him how to howl like a hound dog. I'm pretty sure Mr. Bones is the only 75 lb. pitbull that howls like a beagle when I leave my apartment. They are really great together and I feel so blessed that they fell for each other.
bk&leo: What can people do to help dogs in need even if they can't devote their lives to animal rescue?
Elli: The simplest thing people can do to help dogs in need if they do not have the time to be involved directly in rescue is volunteer or donate. The more supporters rescue groups and shelters have, the more lives they can save!
bk&leo: What's your day to day style? What's your favorite bk&leo piece?
Elli: My day to day style is pretty low maintenance — you will either find me in jeans or a dress. I wish I was more savvy in the wardrobe department, but thankfully many of my friends are in fashion and they stage regular interventions with me! Because I'm low maintenance, my accessories pairings are simple but elegant, which is exactly why my favorite earrings are my bk&leo silver "Cold Out There" star earrings – classic, delicate and not overwhelming. I'm actually wearing them right now as I answer these questions!
bk&leo note: We are extremely proud to support Mr. Bones & Co. and are thrilled, as seen in the July issue of People Stylewatch, to be donating 35% of the proceeds from the silver Andare infinity ring to this amazing organization!